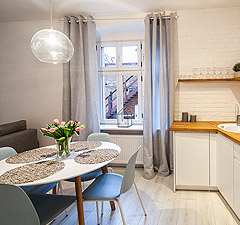 Welcome on our page
Apartamenty Toruńskie near Krzywa Wieżą, is the perfect place for a holiday combined with visiting one of the most beautiful cities in Poland. Our apartments are located in the heart of Toruń's Old Town, close to wonderful monuments.
Due to the location of the apartments vis a vis Krzywa Wieża (The Leaning Tower), our Guests will be able to admire this unique building every day.
Take advantage of our eight fully-equipped, spacious apartments. We invite you to read the detailed description of each of the apartments in the Apartments tab.